This FAQ is a means for us to gather the questions we have received and answered to date and to act as a central point for club related COVID updates. Please refer here first as we will do our best to keep all answers current and based on changing government requirements across NSW and Victoria.
The Koomerang committee is working hard to ensure the lodges can open and our members stay safe.
Questions
Do I need to sign a waiver to use any of the lodges?
Yes, anyone who wishes to use the lodge must sign the waiver. Given the risks associated with using facilities, it is incumbent on members, their families and adult guest to assume this risk themselves.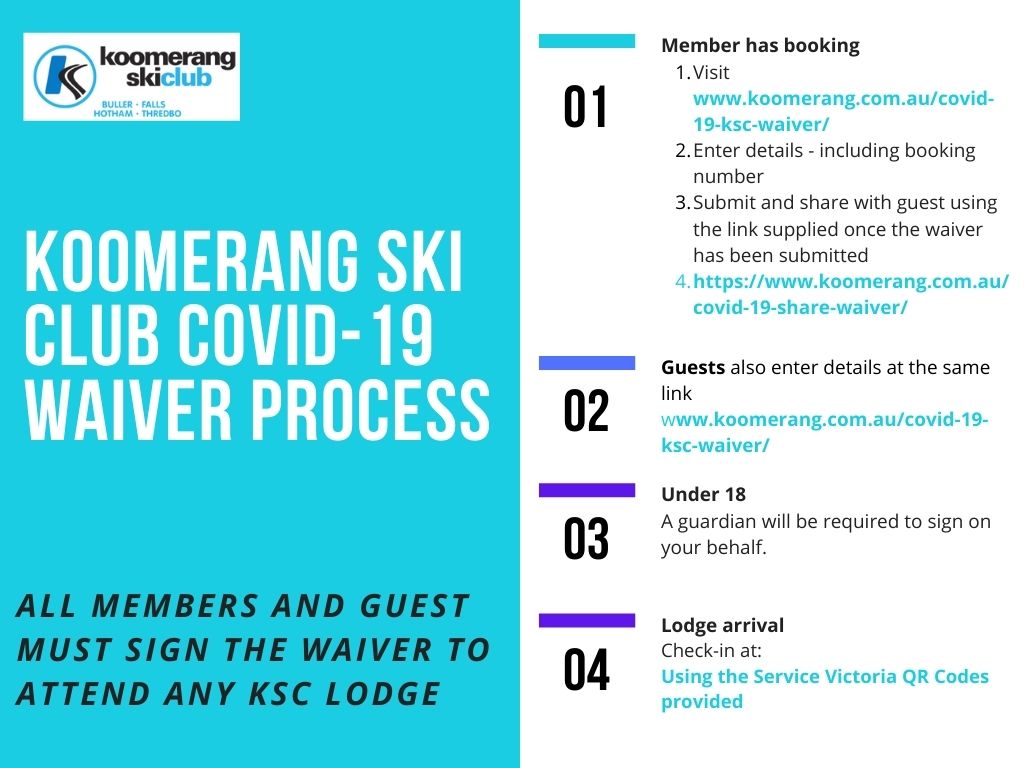 Why do I need to digitally check-in and out at all lodges upon arrival and departure?
Accommodation providers are required to keep the first name, phone number and the date that a visitor has checked in and out of the accommodation.
All QR codes have been registered with NSW and VIC.
Please ensure your check-in on behalf of you and your families.
Which of our lodges will be open for the 2021 ski season?
Based on the New South Wales and Victorian Government regulations, the Thredbo, Falls Creek, Buller and Hotham lodges are compliant and will be open for the 2021 ski season.
Can I still have guests on my booking?
A: Yes, you may still include guests on your booking.  
What plans are in place for the lodges to limit the health risks during the COVID pandemic change?
A: We have a Koomerang COVID-19 Safety Plan in place. This is includes (but is not limited to):
There will be a restriction in the number of people using the Lodge at any one time.
There will be restrictions as to how internal spaces can be used.
There will be a greater focus on continuous cleaning and hygiene.
There will be requirements in the event that a member or guest is infected by COVID previously or whilst at the Lodge, or if they display COVID like symptoms.
How will communal areas be managed?
A: At the lodges which have with communal kitchen and dining areas, these areas will be used and pre-booking groups in "shifts".  There will be a daily planner for groups to a book time in the kitchen and dining area for each meal. All condiments will also be removed from the lodges (only salt, pepper and sugar will be provided) and paper towels will replace tea towels. 
What hygiene provisions are being put in place?
A: Sanitising stations have been installed strategically around the lodges to assist members and their guests to comply with these requirements. We have also provided advice in each lodge in regard to cleaning requirements and there are appropriate cleaning products located in the stores. 
How will the lodges be cleaned?
A: Members and guests are responsible for ensuring the lodges are always kept clean to a high standard, as this is an important strategy to minimise transmission risk. In addition, we will have commercial cleaners come in once a week (during winter) to do a deep clean. 
What is the protocol if a member or guest staying in or visiting the lodge has or contracts COVID19?
A: We have a COVID-19 Safety Plan in place, which provides a clear process to follow. This includes (but is not limited to) immediate isolation for the person, shutting down the lodge as rapidly as possible, the relevant government and resort authorities being notified, and a deep clean of the lodge will be immediately organised. No subsequent occupation will be permitted until such cleaning is complete and all members of the Club will be advised of the infection.
What happens if a person displays symptoms of coronavirus, but the infection is not yet confirmed?
A: We have a COVID-19 Safety Plan in place, which provides a clear process to follow. This includes (but is not limited to) the person being tested immediately and isolating in their bedroom until the test has been confirmed. The Club will inform all members and guests staying in the premises of the potential risk of infection and additional cleaning will be organised for the areas the person has accessed.
How will the drying rooms be managed?
A: Drying rooms are high-risk areas. It will be critical to ensure the social spacing and the restriction of only one person in the drying room at all times. People staying at the lodge will also be required to disinfect it daily. In the case of Thredbo, clothes and ski gear will be separated by room occupation. At Falls Creek, the ski and drying rooms will be allocated to each apartment.
Will blankets/ doonas and pillows still be provided?
A: Yes. However, members and guests will need to bring their own linen (sheets and pillowcases). 
Is there a COVID-19 cancellation policy?
Yes, we have developed a COVID-19 cancellation policy for the 2020 ski season. This is additional to the existing cancellation policy and will allow credits or refunds for cancellations of the whole or part of the booking up to 48 hours prior to the start of the booking.
The COVID-19 cancellation policy applies in the event that:
Mountains elect to close due to COVID-19 Mountains don't open at the start of the ski season or close throughout the season due to COVID-19
Lift tickets are unavailable prior to the first day of your booking*
COVID-19 guidelines negate the opening of lodge accommodation
Members/ guests report they are displaying coronavirus symptoms in the lead-up to a booking
Members/ guests display coronavirus symptoms mid-booking
Members/ guests can't get to the lodge to undertake their stay (i.e. they are in quarantine, the lodge has been shut down due to a confirmed case of coronavirus, or the resort bus services are cancelled due to COVID-19)
If I'm not sick but I'm concerned about staying at the lodge, can I cancel?
A: Yes, you can cancel. In this situation, the regular cancellation policy applies (If cancellations are more than 21 days prior to the first night of a peak period booking, members are entitled to a full refund, if less than 21 days they will only receive a refund for the bed nights that are rebooked).
If I cancel under the COVID-19 policy, can I get a refund or do I have to take a credit?
A: You can either get a refund or take credit. If you want a refund, you will need to provide the Booking Manager with your bank account details.
Will the Club Championships at Mt Buller proceed?
A: At this stage June 2021 – yes